Since my
last book post
, I have read 12 books, and I think seven of them are worth sharing with y'all. I fell into a deep hole with NetGalley books and had to read like crazy to finish books by the March 1 deadline. I seriously need to stop requesting books from NetGalley because I have a bunch of other books I want to read, but I can't help it if a book looks good.
All books are courtesy of NetGalley, but all opinions are my own.
I'm Glad About You by Theresa Rebeck
I'm Glad About You surprised me in a good way. It follows Kyle and Alison and their lives after the end of their off-again on-again relationship. Alison is pursuing acting while Kyle is a pediatrician with a new wife (side note: as someone experiencing the medical journey, it really bothers me when books don't give a realistic portrayal of what it is like. You can't just decide where you want to go to residency a few weeks in advance). I enjoyed both of the characters and reading about their lives. This isn't a book I would normally read, but I'm glad I gave it a chance.
No Ordinary Life by Suzanne Redfearn
No Ordinary Life was a fascinating account of how sudden child stardom affects the child and the rest of her family. Molly is discovered after a viral YouTube video, and her mother Faye becomes her manager while still being a mother to her two other children and dealing with a broken marriage. I loved the behind the scenes look of making a television show, and Faye and Molly were both great characters. No Ordinary Life hooked me in from the first page, and I couldn't put it down!
Flirting with Fame by Samantha Joyce
This story was better than I expected. Although I did get frustrated with Elise quite a bit, I thought it was a great coming of age tale. Some of the topics discussed were deeper than I expected, and it is well-written. Now I am eager to read Veronica's story.
The Passenger by Lisa Lutz
The Passenger is a wild ride. The story opens up with a bang-the main character runs away because it looks like she killed her husband, and the suspense never stops. It's not the best thriller I have ever read (I figured out the big revelation pretty quickly, and I wanted more closure with the ending), but it was a quick read that kept me interested.
In Real Life by Jessica Love
This book was much better than I expected. I liked the concept, and Hannah and Nick were great characters. I thought it was cute story for those who like to read YA.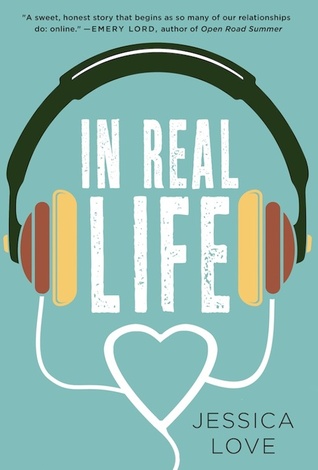 Someone Else's Love Letter by Deborah Blumenthal
This was a sweet chick-lit about a woman who finds a love letter in a taxi and is determined to see who wrote it. I really liked Sage. She was quirky and fun, and I thought her job as a wardrobe consultant was interesting. This was a cute read, and I think it would be great as a summer beach read!
Somewhere Out There by Amy Hatvany
This was a beautifully written story about a young mother who, after some bad decisions, agrees to sign away parental rights to her two daughters. Natalie was adopted right away while Brooke grew up in a state facility and in and out of foster care. I loved how the story was told by all three women, so the reader understands both Jennifer's circumstances and the impact on her daughters. Amy Hatvany wrote three interesting, complex characters in a story that kept me turning the page. Once I got to the end, I didn't want the story to end.