Hi, friends! I took an unintentional break from blogging last week, but it was so necessary. Now that I'm further into the second trimester and my migraines aren't daily, I'm hoping to get back into my normal Monday, Wednesday, and Friday blogging schedule! I decided to do my book post a week before the linkup this week because I'm hoping to have a gender reveal post next Monday! Fingers crossed our little one cooperates. Towards the middle of the month, I was worried I would only have one or two books before the linkup, but thankfully, now that I'm feeling a little better, I have been able to get into reading again! I've read some really good books this month, so I'm super excited to share them with y'all.
I'll Eat When I'm Dead by Barbara Bourland
(c/o NetGalley)
I have mixed feelings about this book. The description made me think it was a mystery or a thriller, but it's really not. It's more a drama about life at a competitive magazine in New York. It was a bit slow in parts, but I did still like it overall. I would have liked it more if I knew what it was going in, though.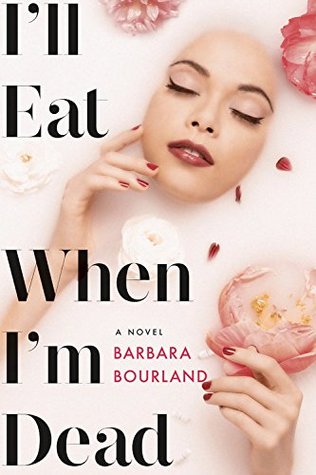 Midnight at the Bright Ideas Bookstore by Matthew J. Sullivan
(c/o NetGalley)
I didn't expect this book to be so dark, but it also had a quirky side that made it interesting. The author did a fantastic job of tying all the character's together as Lydia tried to figure out the reason behind Joey's suicide. If you like thrillers, this is a good read.
Perennials: A Novel by Mandy Berman
(c/o NetGalley)
This book had so much potential. I really liked the camp, but I feel like there were way too many characters, and the book really lost its focus on Rachel and Fiona. It claimed it was about their relationship, but a lot of the narrations barely focused on them. Plus, the tragic event mentioned doesn't occur until nearly 90 percent into the book, and there just wasn't enough time to show how it changed Rachel and Fiona.
The Seven Husbands of Evelyn Hugo by Taylor Jenkins Reid
(c/o NetGalley)
Taylor Jenkins Reid has done it again. Honestly, after reading this description, I didn't think this book would be as good as others she has written, but she really made Evelyn Hugo come alive. This is a beautiful, heartbreaking story that's different from anything else I have read. If you love women's fiction, read it ASAP!
Windfall by Jennifer E. Smith
(c/o Blogging for Books)
I was surprised by how much I liked this book! Honestly, the plot sounded cheesy-a teenage boy suddenly wins millions in the lottery, and his whole life changes. Jennifer E. Smith is an amazing writer, though, and the emotions in this are so raw and real. I found myself wanting to keep reading to see how it ends. If you like YA, this book is definitely worth a read!
Are You Sleeping by Kathleen Barber
(c/o NetGalley)
This was a good thriller. It was an interesting plot and kept me interested. The characters really made this a good story. I wasn't in love with the ending, but I also didn't hate it. Overall, if you like thrillers, this one should be on your list!
Favorite reads in May: The Seven Husbands of Evelyn Hugo, Windfall, and Are You Sleeping
I love book suggestions. What have you read lately?