2015 was a huge reading year for me. My original goal was to read 50 books, but I ended up finishing off the year with 105 books. It helped that Christopher had a lot of night shifts last year, and I'm not the best at sleeping when he's gone. It was hard to narrow down all the books I read to just ten books, so I picked the books that stuck with me the most. If you are interested in more favorites here are my best reads in the
winter
,
spring
,
summer
, and
fall
.
The Secret Life of Violet Grant by Beatriz Williams
I listed The Secret Life of Violet Grant since it's the first book in the Schulyer sister series, but I loved all three books. (Along the Infinite Sea was my favorite, but I think it's best to read all three to get the full story)
In The Secret Life of Violet Grant, Vivian Schuyler receives a suitcase in the mail that once belonged to Violet, a great-aunt she had no idea existed. As she begins to dig into Violet's past, she discovers family secrets others are desperate to hide. Vivian was one of the best characters I have read in a long time! Her voice was just perfect. I loved how she was a headstrong, no nonsense girl. I also loved the progression of Violet's story, especially the ending.
The Sound of Glass by Karen White
(c/o NetGalley)
Karen White is one of my favorite authors, and this book was no exception. Two years after the death of her husband Cal, Merritt receives the gift of a family home from his grandmother and begins to unravel the secrets of her husband's past. I was instantly intrigued by the story of the plane crash and how it intertwined two families. I loved how Merritt's character evolved throughout the novel. Truly a beautiful novel filled with secrets and how to let go of the past.
The Doll Maker by Richard Montanari
(c/o NetGalley)
This book is the eighth in a series, but it can easily be read as a stand alone novel. The Doll Maker centers around a series of child murders in Philadelphia...where the killers leave a doll of the previous murder at each site. I thought the format of this book was interesting, where we knew the point of view of both the killers and the detectives. It was well-written, surprising, and the characters were fascinating. I didn't even realize this book was 500 pages because it went by so quickly!
Everything, Everything by Nicola Yoon
(c/o NetGalley)
It is rare for me to give a book five stars, but every once in a while a story comes along that I know I won't ever forget. Madeline is allergic to the world and has never been allowed outside, but she is desperate to see the world when she meets Olly. Everything, Everything is beautiful, tender, and heartbreaking. I love books that use different mediums (if the book does it well), and this couldn't have been done better. The writing pulled me in and didn't let go. I even wanted to bring this book to the dinner table. I loved Madeline and Olly and wish their story could go on forever. Even so, the ending was beautiful. I honestly want to start over and read this book all over again.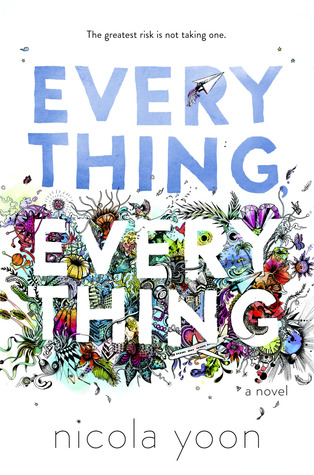 Somebody I Used to Know by David Bell
(c/o NetGalley)
This book tells the story of Nick Hansen, who sees a girl at the grocery store who is the splitting-image of his college sweetheart...who has been dead for twenty years. The girl ends up dead the next morning, forcing Nick to reevaluate everything about his girlfriend's death. I really liked this book. Nick was a great main character, and I liked the supporting cast. Even though the story felt a little slow at times, the mystery really pulled me in...and I read it in less than 24 hours. I like all the twists and turns, and the ending was great.
The Book of Speculation by Erika Swyler
(c/o NetGalley)
Simon receives a mysterious book that is the key to unlocking a curse his family has suffered for generations. I have seen a lot of people compare this book to The Night Circus, but I don't think that's fair. The only thing alike about the two books is they're both well written and about a circus. That being said, I loved The Book of Speculation. The past/present format worked really well to explain the curse on Simon's family, and the beautiful writing kept me interested the whole time. I highly recommend it.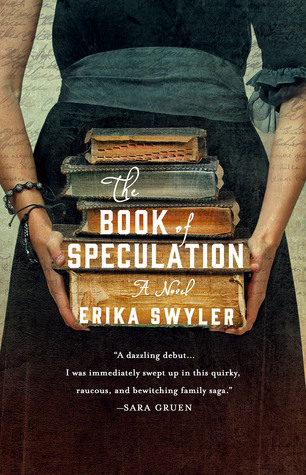 The Girl Without a Name by Sandra Block
(c/o NetGalley)
This book grabbed me at the first page and didn't look go. The plot was interesting-a catatonic girl arrives at the psych ward who does not know her identity, and Dr. Goodman becomes obsessed with finding out who she is. The plot twist at the end was fantastic. I can usually figure out what is going to happen before it happens, but this twist blindsided me.
Wherever There Is Light by Peter Golden
(c/o NetGalley)
Wherever There Is Light is a beautiful historical fiction romance about a Jew and an African-American who fall in love even though society forbids it. It takes you on a journey from the 1930s to post-war Paris as Julian and Kendall grow up to figure out who they areas individuals and whether they can be together. The writing is beautiful, the characters are well-developed, and the story kept me interested. I didn't love the ending, but I still think the book is worth a read.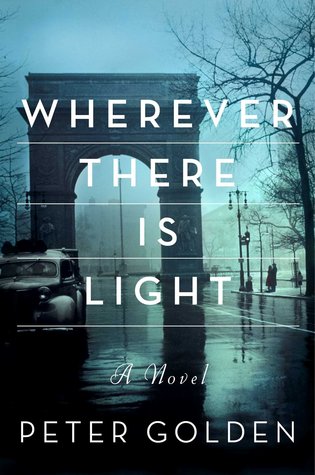 Saving Sophie by Ronald H. Balson
(c/o NetGalley)
I was pleasantly surprised by this book. I don't usually read books about the Middle East, but this one was suspenseful and interesting. The book starts out with a missing $88 million dollars in an embezzlement case and Jack Sommers as the main suspect. But why would someone who has never broken the law suddenly steal $88 million dollars? His daughter, Sophie, has been kidnapped by her grandparents and taken to Palestine. The story was intriguing from the very beginning, and I couldn't stop reading. I loved the characters, from Jack and Marcy to Catherine and Liam (I have been wanting to read
Once We Were Brothers
, and now it's moved higher on my to-read list!) I never expected to finish this book in one night, but that's exactly what happened.
The Edge of Lost by Kristina McMorris
(c/o NetGalley)
This book captivated me in from the very first page and didn't let go. The story begins with a hook from the end of the book: a cold, foggy night at Alcatraz in 1937, and a prison guard's only daughter has gone missing. You don't return to this part of the story for some time, but the story of Shan and the love, loss, and second chances he experienced was beautiful. This was one of those books that I wanted to read again as soon as I finished it.
What are some of the best books you read in 2015?