Hey, friends! It feels strange to open up my blog after being gone for almost a month. It's the longest time I've been away since I first started writing, and honestly, I really needed to do it. If you read my Instagram post, you know Anthony has barely slept over the last month, and I just had to give myself grace and step away for some time. I truly missed this space, and it's so hard for me not to write, but I really had to give myself grace (someday I hope to write a post about giving myself grace as a new mother). One thing I did manage to do during those sleepless nights is read. It also helped that I had Erin's Book Challenge as a motivator. I managed to read seven books since my last post, and several of them were winners!
Just Between Us by Rebecca Drake
(ARC from the publisher)
Rebecca Drake's
Only Ever You
was one of the best books I read in 2016. I can't say quite the same for Just Between Us, but it's still a really good read. This book asks how well do you really know your closest friends...and how far would you go to help them? Alison, Julie, Heather, and Sarah each tell their side of the story as the details unfold. This novel is incredibly well written, and my only critic is the beginning dragged a bit, and it took me a while to get into the story. Once I did, I was so hooked and couldn't wait to see how everything turned out. There were some interesting twists and turns, and the ending was surprising. This thriller is definitely worth a read.
White Houses: A Novel by Amy Bloom
(c/o NetGalley)
I wanted more from this book. It's a historical fiction of Eleanor Roosevelt and Lorena Hickok, her "First Friend." Although this is written as an intimate account of "Hick's" childhood and time in the White House, I began to lose interest in it fairly quickly. Some parts of the story were fascinating, but others just fell flat.
Two Girls Down by Louisa Luna
(c/o NetGalley)
I always say the mark of a good thriller is when I can't tell you much in the review, and this book fits the bill. It's about two girls who go missing and two private investigators work together to figure out who kidnapped them. The pace was great, and I really liked both of the main characters. The big reveal was well done, too.
Love and Other Consolation Prizes by Jamie Ford
(c/o NetGalley)
Jamie Ford really has a way with words. I honestly don't think I would have found this story so interesting if written by someone else. It follows the life of a young boy named Ernest who was offered as a prize in the 1909 Seattle World Fair (based on a true story) and is "won" by a woman who owns a brothel. The story is tender, heartbreaking, and beautiful.
Abby's Journey by Steena Holmes
(c/o NetGalley)
This was the sequel to
Saving Abby
, and I honestly thought this book was a little unnecessary. Once I finished
Saving Abby
, I never felt like I needed to know more. That said, though the beginning of this sequel fell a little flat for me, the ending was touching.
Dangerous Crossing by Rachel Rhys
(c/o NetGalley)
As far as historical fiction novels go, this one is unique. It follows a young woman named Lily as she embarks on a ship to Australia to become a domestic on the brink of World War II. This book is very character driven, as Lily meets people she wouldn't normally socialize with in her daily life, all who are harboring secrets. I really enjoyed this read.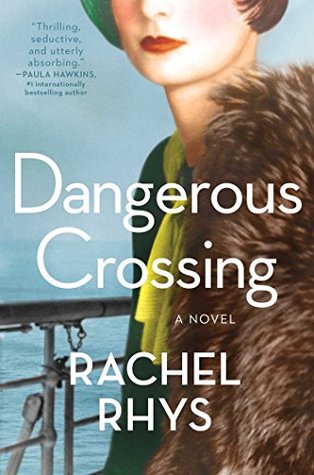 We Are All Made of Stars by Rowan Coleman
(c/o NetGalley)
I'm surprised this book isn't more popular. There were a few parts that I wish were more emotional, but overall, it was really moving. Centered around a hospice and a woman named Stella who writes final letters for those about to pass away (though there are two more major characters-Hope and Hugh), it is surprisingly hopeful.
Favorite reads in January: Just Between Us, Two Girls Down, and Dangerous Crossing.
I love book suggestions. What have you read lately?
Save
Save
Save
Save