Is it strange I feel like I slacked in February because I only finished eight books? I guess it's because February is a shorter month, and we went on vacation. I must admit I usually end up reading less on vacation than I do at home. I'm just usually so tired from exploring all day, all I want to do is sleep! The good news is I liked everything I read this month, so I am excited to share the books with y'all!
I Let You Go by Clare Mackintosh
This book started off really slow for me, and I began to wonder what all the hype was about. Then, about 50 percent into the book, it started to pick up, and I read the rest of the book in one sitting. The twists and turns were so well done, and it turned into an interesting and powerful read.
Small Great Things by Jodi Picoult
(c/o NetGalley)
This was a beautifully written and powerful read about a pertinent issue (race relations). Jodi Picoult basically ripped my heart out several times throughout this book, and it has been a long time since I have read a novel that has affected me so much. This book is definitely worth a read-just make sure you're in the mood for something heavy.
The Things We Wish Were True by Marybeth Mayhew Whalen
(c/o NetGalley)
I was surprised by how much I loved this book. There were many narrators, which I usually dislike (I think three is a good max), but I ended up liking every single one of the characters. This is probably the best story I've read about a small town (in this case, just a neighborhood) where every character has a secret.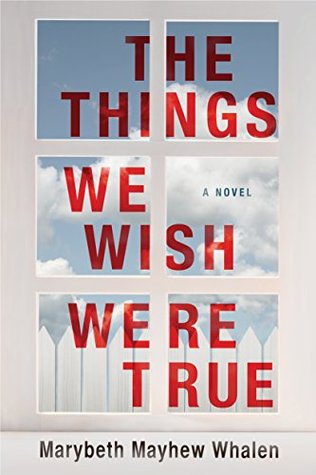 The Perfect Stranger by Megan Miranda
(c/o NetGalley)
Megan Miranda did it again. Actually, I liked
The Perfect Stranger
better than her first novel,
All The Missing Girls
. The main character is complex, and the book is full of many twists and turns. If you like thrillers, this one is worth a read.
From a Paris Balcony by Ella Carey
(c/o NetGalley)
I really enjoyed this historical fiction that revolves around Marthe de Florian's apartment in the current day and the Belle Epoque in the past. After her life falls apart, Sarah heads to Paris to uncover why her relative Louisa committed suicide. The story is interesting and kept me interested. I really liked the ending, too.
The Roanoke Girls by Amy Engel
(c/o NetGalley)
The Roanoke Girls
was sad and disturbing, but it draws you in and refuses to let go. I was almost disturbed I was that engrossed in it, but the writing is just fantastic. If you don't mind messed up subjects, pick this one up.
Never Let You Go by Chevy Stevens
(c/o NetGalley)
This was a good thriller. It was suspenseful, and the twist surprised me (though looking back at it, I'm a little mad at myself for not realizing it). This was my first Chevy Stevens books, but I will definitely be reading more in the future!
The Chilbury Ladies' Choir by Jennifer Ryan
(c/o Blogging for Books)
This is a historical fiction novel of how World War II affected the women of Chilbury. It's an interesting portrayal of how though things drastically changed, some things didn't change. It's strange to call a WWII novel a "light" read, but in some ways this felt like one. Overall, I really enjoyed it and thought it gave good insight into a small town in England during the war.
Favorite reads in February: I Let You Go, Small Great Things, and Never Let You Go.
I love book suggestions. What have you read lately?
Save
Save
Save
Save
Save
Save
Save
Save
Save
Save
Save
Save