I thought I hadn't read much since my last book post with our move and everything else going on, but I just looked it up, and I still read nine books. I also did
Erin and Dani's Read My Books Challenge
. I couldn't read books off my bookshelf since we moved in the middle of the month, so instead, I alternated between NetGalley books that have been on my shelf forever and Kindle books I bought months (sometimes years) ago and hadn't gotten to read yet.
I had a hard time narrowing down which books to share with y'all this month because although I've read several good books, I haven't read many lately that have blown me away. I'm not sure if this has more to do with my mindset lately than the books themselves, so I'm including some of my three-star books in the mix again this month.
The Good Girl by Mary Kubica
I don't know what's with me and popular reads lately, but I keep feeling like they don't live up to the hype. My problem with The Good Girl is it felt super slow and lacked suspense. When the questions were finally answered, it felt rushed. As far as the big "twist" at the end, for some reason I had started suspecting that in the middle of the book, so I wasn't surprised. It was a decent read, but I really wanted it to be more fast-paced.
One True Loves by Taylor Jenkins Reid
(c/o NetGalley)
Taylor Jenkins Reid is an incredible writer. In One True Loves, she tells a raw, heart-wrenching story of Emma, a woman who became a widow at a young age and was finally able to move on three years later, only to find out her husband hadn't died. The author took me on a rollercoaster of emotions as she told the story from the beginning of Emma's love story when she first met Jesse to finding out his helicopter had crashed and the healing process afterwards. It's a beautiful story of growth and courage and was masterfully done. I will definitely be reading more Taylor Jenkins Reid books in the future.
The Wife, The Maid, and The Mistress: A Novel by Ariel Lawhon
I had never heard of Judge Joseph Crater before I read this book, so it was interesting to read a fictional account of how he went missing. I really liked Stella, the wife, Ritzi, the mistress, and Maria, the maid, but the story really seemed to drag in parts. The facts of what everyone knew did slowly come together, and the author's guess of what happened to Crater was interesting, but I had a hard time getting to the end of the book. Overall, it is a decent read about a historical topic, but it's not a book I will go out of my way to recommend.
While You Were Mine by Ann Howard Creel
(c/o NetGalley)
I really liked While You Were Mine at the beginning, but it lost me a bit in the middle. The romance was seriously lacking and so was the historical component (it's set just after World War II). At the end of the book, I felt like I didn't know much about Gwen and John. Even so, I don't regret reading it, but it's not a book I would recommend.
The Royal We by Heather Cocks and Jessica Morgan
This book was such a guilty pleasure! I like the royal family, though I didn't know much about Kate and William's love story (I knew they met at St. Andrews, and it took him a while to propose). Of course, I had to look up more of their story while I read The Royal We, and this novel does loosely follow the same timeline. I really thought this book was fun. As much as I liked Bex and Prince Nick, I thought the supporting characters really made this story. It was longer than I expected, but I didn't really mind. I was in the mood for this kind of novel, and I'm glad I read it.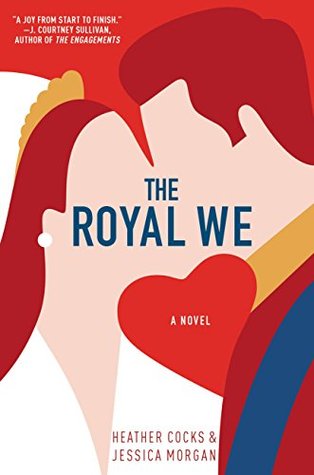 Miller's Valley by Anne Quindlen
(c/o NetGalley)
This book surprised me. It started off slow, and I wasn't sure I was going to like it. It didn't really pick up its pace, but I grew to like Mimi and her life in the tiny town of Miller's Valley. That said, it took me quite a while to get through less than 300 pages. I'm not sure I would go out of my way to recommend it to people, unless they are in the mood for a slow, reflective novel.
Rosalia's Bittersweet Pastry Shop by Rosanna Chiofalo
(c/o NetGalley)
From the description, I thought this was a lighter read than it was (I do recognize that the word "bittersweet" is in the title), but I did enjoy Rosalia's story and all the different pastries mentioned. I did think it was a bit repetitive, and I didn't enjoy the author's writing style. Like I mentioned, I was in the mood for a light read, so I thought most of this book was really depressing, but if you go in realizing it is sad, it is a decent read.
All the Missing Girls by Megan Miranda
(c/o NetGalley)
In this thriller, Nicolette Farrell returns to Cooley Ridge ten years after her best friend goes missing to sell her father's house. Within days of her arrival, her ex-boyfriend's current girlfriend, Annaleise Carter, disappears. This book is told in reverse, from Day 15 to Day 1, and it actually works. My biggest concern with this book is I didn't actually feel the suspense, and one of the big reveals was super obvious (the other one wasn't). Still, I thought it was a clever way to tell the story and worth reading just for that!
Favorite reads in June: One True Loves and The Royal We
I love book suggestions. What have you read lately?