Hey there, book friends! Life has been a bit crazy, and I missed the linkup last month, so I have eight books to share this month. The best part is I've read so many good books lately. I don't know if I've been more selective about what I'm reading since I don't have as much time to read, or I've just lucked out, but I couldn't wait to share these books with y'all!
The Family Next Door by Sally Hepworth
(c/o NetGalley)
I love Sally Hepworth, and while this book is a bit of a departure from her other books, I still enjoyed it. It reminded me a bit of Liane Moriarty's
Big, Little Lies
. Honestly, I didn't really care for the two side stories, but the main plot line was really interesting. Overall, it was a good read.
Lady Be Good by Amber Brock
(c/o NetGalley)
I had high hopes for this book because I really enjoyed Amber Brock's
A Fine Imitation
, but it fell flat for me. It had no real plot, especially for the first half, and Kitty was a bit annoying. It also felt really long when it was actually less than 300 pages. The second half redeemed it a little for me, but it was still not a favorite read.
Seeing Red by Sandra Brown
(c/o NetGalley)
This is my second Sandra Brown book, and I liked this one even more than the first one. Sandra Brown is just so good at mixing a thriller with romance. The plot was interesting, and it was full of great twists. I was honestly sad to see it end! I'll definitely be reading more Sandra Brown in the future.
A Vicarage Reunion by Kate Hewitt
(c/o NetGalley)
I wanted to love this book as much as I loved the first one, but it really dragged in the middle for me (which is saying a lot for a book that's less than 300 pages!). I did like the story overall, though, and I'm definitely going to read the next one in the series.
Our House by Louise Candlish
(c/o Penguin First to Read)
This thriller was SO good. It grabbed me right away, and if I could have, I would have definitely read it in one sitting. The twists were done well, and the plot was unique. I have been not impressed with many thrillers lately because it feels like they're all the same, so it was refreshing to read this book! The only reason it's not five stars for me is I feel like Bram could have been a little more developed.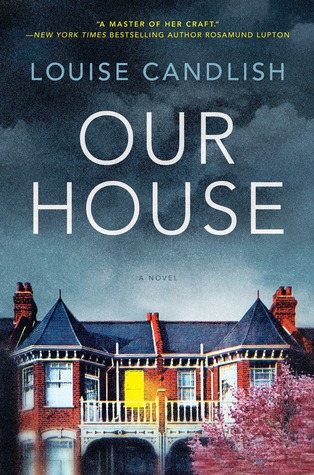 Us Against You by Fredrik Backman
(c/o NetGalley)
I'm always nervous about reading a sequel to a book I really liked, but
Us Against You
delivered. The writing was so beautiful, and the emotion is raw. This book is about so much more than just hockey- it's about politics, relationships, and resilience. It's a must read.
Love and Other Words by Christina Lauren
(c/o NetGalley)
This is the best women's fiction book I have read in a long time. It was almost as good as
Swear on This Life
, which is saying a lot for me. It sucked me in from the very beginning, and my pre-baby self would have probably finished it in one sitting. Even now, I was reading it as much as I could. The emotions were so well done, and the past-present format worked great in this case. Usually, I like either the past or present more, but I was eager to read both sides of the story. This was my first book from Christina Lauren, but it definitely won't be my last.
Need to Know by Karen Cleveland
(c/o NetGalley)
What a fast-paced thriller! This one really kept me on the edge of my seat. I literally felt sick for the main character as she made some impossible decisions. I LOVED it until the epilogue. I honestly wish it wasn't there. I had guessed that it would go in that direction, but I was hoping it wouldn't. That's all I'm going to say about that, so I don't give anything away, but it was still a fantastic book overall!
Favorite reads in May and June: Seeing Red, Our House, Us Against You, and Love and Other Words
I love book suggestions. What have you read lately?
Save
Save
Save
Save
Save
Save
Save
Save