Oh Friday, how I love you. Honestly, this week has been rough. I have a bunch of blog posts that I started, but I came home so drained that I couldn't finish them. Oh well, it happens, and next week is a new week!
/ / One:
As of today, Chris is officially done with interviews! I wrote
an update on residency
on Tuesday, but I just want to say I'm so happy he is going to be around more often.
/ / Two:
Texas weather has been crazy this week—It was 70 on Sunday, and it snowed yesterday. It's been all over the place, but I have actually enjoyed experiencing both winter and spring in one week.
/ / Three:
Speaking of weather, Loft is currently having an amazing sale with many sweaters only costing $15.88. Here are a few of my favorites:
/ / Four:
Our current thoughts for the hubby's graduation trip is flying into Phoenix and doing a road trip to Sedona, Vegas (maybe Grand Canyon), Death Valley, San Diego, and Catalina Island. Nothing has been finalized, but we are super excited about this possibility.
/ / Five:
Today, I am a co-host for Fresh Face Friday with Casey! If you haven't read her blog, it is full of amazing photos and stories from her time in Europe and beyond. Come link up with us and discover new blogs!
PS-Have you entered the
Ulta giveaway
yet?
I hope everyone has a wonderful weekend!
Welcome to the
FRESH FACE FRIDAY BLOG HOP!
Rules for hopping:
1| Follow your host & co-hosts (first 3 links), pretty please!
2| Link up your blog's homepage or Bloglovin' page.
3| Hop around, meet new bloggers, and leave them love!
4| Have fun? Spread the word and share this blog hop with your friends!
5| Want to be a co-host? Click here for more info!
Grab a button and share the blog hop love!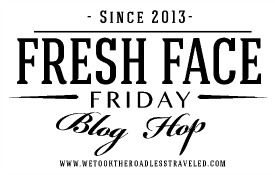 Tweet about this blog hop!
Tweet