I always love Fridays right before a vacation. Though I am an anxious flier, I am always excited to explore new places. Here are my five favorites this week:
/ / One:
I am so excited to fly out to Boston at the crack of dawn tomorrow morning and spend a week relaxing with the hubby. It has been a stressful few weeks setting up interviews so it will be wonderful to not worry about the future for a week.
/ / Two:
I have been looking forward to our fall foliage cruise since May, and I am so ready to board our ship on Sunday! We will be going to two cities in Maine (Portland & Bar Harbor) and two cities in Canada (Halifax and St. Johns). We don't get the beautiful fall colors here in Texas so I am ready to enjoy cooler weather and see some color!
/ / Three:
I finally started reading
Where'd You Go, Bernadette
, and I can't believe that I waited this long to read it. (I've had it for over a year.) It is a quirky and fun read so far!
/ / Four:
We purchased tickets to see Baylor football play in December! Chris and I really wanted to see a game in the new stadium this season. I am glad we were able to make it work with the hubby's interview schedule.
/ / Five:
Residency update: Chris had his first interview this week, and it went really well. There are still many more to go, but I am glad he came away happy with his first one.
Today I am co-hosting the Fresh Face Friday linkup with Casey from
We Took the Road Less Traveled
.
Welcome to the
FRESH FACE FRIDAY BLOG HOP!
Rules for hopping:
1| Follow your host & co-hosts (first 3 links), pretty please!
2| Link up your blog's homepage or Bloglovin' page.
3| Hop around, meet new bloggers, and leave them love!
4| Have fun? Spread the word and share this blog hop with your friends!
5| Want to be a co-host? Click here for more info!
Grab a button and share the blog hop love!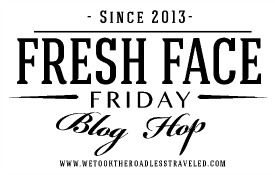 Tweet about this blog hop!
Tweet
I hope everyone has a great weekend! Note: I will have a few days on the cruise without access to the Internet so it will take me a bit longer to respond to your comments, but I'll respond as soon as I can! I will have a few posts up next week while I am gone.